Morata Close to Joining Atletico on Loan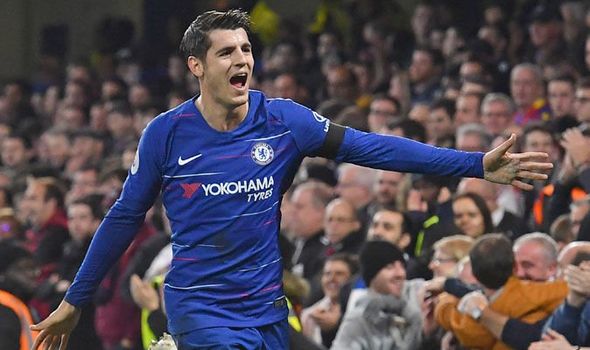 Chelsea striker Alvaro Morata said on Sunday he had passed a medical at Atletico Madrid and is "looking forward" to returning to Spain.
According to reports, Morata is to sign an 18-month loan deal in the Spanish capital – 18 months after leaving Real Madrid for Chelsea.
His imminent departure follows the arrival of Juventus striker Gonzalo Higuain on loan to Chelsea.
"I've spent days waiting for this," Morata told reporters in Spain.
The 26-year-old signed a five-year contract when he joined Chelsea for a then club record £60m fee in July 2017.
Chelsea have since broken their transfer record by spending £71m keeper Kepa Arrizabalaga from Athletic Bilbao.
Morata has made 47 Premier League appearances for the Blues, scoring 16 times. His last start was against Nottingham Forest in the FA Cup on 5 January.
"The past is the past, and it cannot be changed, and I'm very proud of it," added Morata, who was at Atletico as a youngster before signing for city rivals Real.
"I am looking forward to everything being completed so I can start training with my team-mates.
"I began my career at Atletico and the people who know where I come from and know my history know what this means for me."
Atletico Madrid, who are second in the La Liga table, have allowed Portugal winger Gelson Martins, 23, to join Ligue 1 Monaco on loan until the end of the season
Italian Newspaper Shockingly Dub Inter Milan Vs Roma As 'Black Friday' In Racism Storm
An Italian newspaper have disgustingly dubbed Friday night's Serie A clash between Inter Milan and Roma as 'Black Friday'.
Corriere dello Sport ran a 'Black Friday' headline with photos of Inter Milan's Romelu Lukaku and Roma's Chris Smalling either side.
The duo used to play together at Manchester United so their images are likely attempting to play on that.
But the headline has outraged fans and officials online in another huge race storm in Italy.
The newspaper have yet to comment on the scandal.
Italian football has been blighted with racism scandals over the last year and this season has seen a number of high profile cases.
Lukaku himself was subjected to monkey chants among other slurs as he stepped up to take a penalty against Cagliari back in September.
Mario Balotelli has also found himself on the receiving end of horrific abuse.
The Italian forward kicked the ball into the Hellas Verona crowd after being abused and threatened to walk off the pitch.
The latest scandal is set to overshadow what could be one of Serie A's games of the season.
Antonio Conte's side are top of Serie A while Roma are outside the top four on goal difference.
Lukaku and Smalling have settled into their respective sides comfortably since leaving Old Trafford in the summer.
It's a shame that horrible off-field antics are likely set to take away from the on-field action.
Shocking front page by Il Corriere dello Sport as they preview Lukaku going up against Smalling in the Friday night game as 'Black Friday' pic.twitter.com/UpVskExxvI

— Andrew Cesare (@AndrewCesare) December 5, 2019
Tone deaf, ignorant & with the usual racial undertones.

Saying I'm shocked would be a lie at this point.

Absolute embarrassment from @CorSport to come up with this title for Friday's clash between Inter and Roma. pic.twitter.com/0OPOD5LZ9x

— Matteo Bonetti (@BonettiESPN) December 5, 2019
Shocking front page by Il Corriere dello Sport as they preview Lukaku going up against Smalling in the Friday night game as 'Black Friday' pic.twitter.com/UpVskExxvI

— Andrew Cesare (@AndrewCesare) December 5, 2019
No one:

Absolutely nobody:

Not a single soul:

Corriere dello Sport headline writer: pic.twitter.com/u2xpMLV5IH

— AS Roma English (@ASRomaEN) December 5, 2019
Lionel Messi Reveals Why He Voted For Sadio Mané To Win Ballon d'Or
Lionel Messi has revealed why he voted for Sadio Mane to win the Ballon d'Or at the FIFA Best Awards on Monday.
Messi won his sixth Ballon d'Or at the event but you aren't allowed to vote for yourself at the prestigious event.
The Argentine has revealed that he voted for Liverpool's Sadio Mane to win the illustrious award.
The 32-year-old explained to Canal Sport:
"There was a lot of great players this year, but I chose (Sadio) Mané because he is a player I really enjoy watching, he had a great year with Liverpool."
He also said that it was 'a shame' to see the Senegalese forward finish in fourth place.
But the Barca captain said there have been lots of stand out players in 2019.
"I think there have been a lot of great players this year. That's why it was difficult to choose a particular player."
Mane came behind Virgil van Dijk and Cristiano Ronaldo who finished second and third respectively.
Many have argued that the 27-year-old could have come above Cristiano Ronaldo considering their club form this year.
Mane helped Liverpool win the Champions League and was joint top scorer in the Premier League last season.
Ronaldo on the other hand finished 5 goals behind last season's Capocannoniere winner Fabio Quagliarella.
🔊 "Leo, you voted for Sadio Mané as the best player in FIFA The Best. Why?

Messi: "There was a lot of great players this year, but I chose Mané because he is a player I really enjoy watching, he had a great year with Liverpool." 🤩

Respect 🙌 @TeamMessi @10SadioMane pic.twitter.com/bFHeJf19Nw

— mx (@LeooMessi10i) December 4, 2019
'I'm happy here in Leicester, My hardwork in training is paying off – Kelechi Iheanacho says
Super Eagles of Nigeria and Leicester City FC of England striker Kelechi Iheanacho has come out to make a shocking admission that he isn't perturbed about sitting on the bench for his club side while also crediting his recent marvels for his club side on his hard work during training.
Iheanacho, who over the weekend scored his first EPL goal in 15 months, after coming on as a substitute and scoring at the last minute during Leicester's 2-1 win over Everton.
Ihenacho who has been dropped recently by Super Eagles coach Gernot Rohr and last scored for the Foxes in their 2-1 win over Huddersfield Town on September 22, 2018, before scoring last weekend against Everton, has said his training regime is responsible for his newfound form.
Speaking to the club's website, Iheanacho, 23, said, "It was a great moment, (it was) my first game of the season and first goal, so I'm really buzzing – I'm happy.
"It all came from the hard work in training, I've been working hard and keeping my head up and waiting for the opportunity to come. I'm happy it came, and I took it.
Iheanacho due to limited opportunities has been linked with moves to other clubs in January but the Owerri born player says he doesn't mind sitting on the bench and being an understudy to Jamie Vardy as his time will come.
"'He (Vardy) is a top lad and a top striker in the world, everyone knows,' Iheanacho said as monitored by Soccernet.ng.
'I am playing with him in training and watching him which inspires me as well.
'I will keep going. We can play as two strikers or we can play one striker as well.
'It depends on how the manager wants to play and set up the squad and everyone is important. We need everyone.
'Being, maybe you can call it, a back-up striker or support striker to them is something I am happy to be.
'Of course, I could get my chance, it depends on what the manager wants to do.
'I am happy here (at Leicester City), everyone is happy.
'The manager is a top manager who is friendly to everyone.
'I don't see the reason why anyone could want to leave. I think he gives everyone chances, there are a lot of games coming up.
'I believe in myself if I get the chance. It happens in football, sometimes you can face trying times or sometimes you can play.
'It is a time I have to face in my life and just have to keep going. I just have to keep my confidence and be strong.'