How Nigerians May Vote, State By State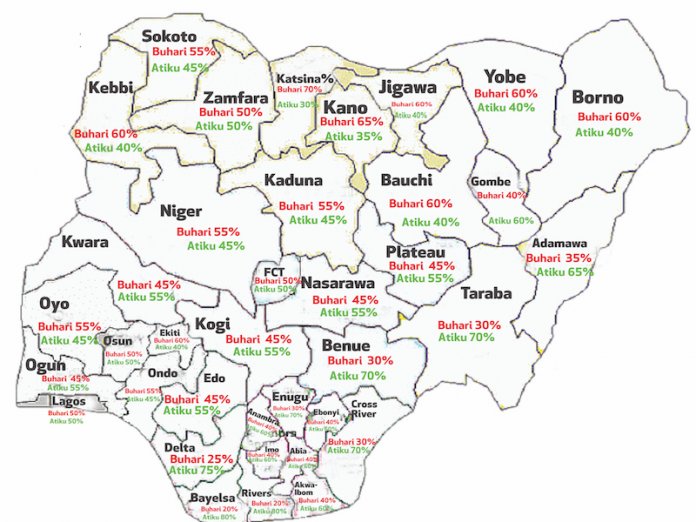 Buhari, Atiku in Tight, Tough Race as Feb 16 Closes in
With just 13 days to the February 16 presidential election, the dynamics of the race for the nation's top job indicate an interestingly tight and tough contest between the two leading candidates of the Peoples Democratic Party (PDP), Alhaji Atiku Abubakar and the ruling All Progressives Congress (APC), Muhammadu Buhari.
This latest development is not only evidenced by the frenzy of their campaigns, which has seen both candidates traverse many states and across the geo-political zones, but more strongly connected to the degree of acceptability that the two candidates enjoy, in what is fast becoming a popularity contest.
THISDAY's recent field intelligence gathering, which reports a tight and tough contest, however, presents both state-by-state and geo-political zone analyses of what is obtainable by each of the two front-runners in the states, thus giving an evolving picture of what might ultimately be the regional standing of the candidates and their parties.
North-west
In the Kano, for instance, the race pictures a 65 per cent victory for Buhari and 35 per cent for Atiku, In Kaduna, while Buhari is likely to get 55 per cent of the votes cast, Atiku may post just 45 per cent. The race in Katsina is a no-contest as Buhari is sure to secure 70 per cent to Atiku's 30 per cent.
In Sokoto, Buhari manages an edge over Atiku with 55 to 45 per cent sharing, but in Zamfara, the contest promises a 50-50 contest. Kebbi looks comfortable for Buhari with a 60 per cent advantage over Atiku's 40 per cent.
Thus, in the North-west, Buhari is sure of victory in at least five states, albeit with varying winning percentages, with a draw in one with Atiku.
Buhari is certain to prevail in Jigawa with a 60/40 mergin over Atiku.
North-east
The dynamics in North East varies differently from the North West, because here, in Bauchi for example, Buhari is sure of some 60 per cent to Atiku's 40, while in Borno and in spite of the growing insurgency, the votes will still go the way of Buhari, also with 60 to 40 per cent voting.
Atiku will put up a good showing in Adamawa with a 65 per cent advantage, leaving Buhari with 35 per cent. Moving on to Yobe, Buhari is positioned to score 60 per cent, leaving 40 for Atiku and the same equation is shared in Gombe – 60/40 – also in favour of Atiku. But the Taraba contest is a different one as it sees Atiku coasting home with 70 per cent and 30 for Buhari.
Here in the North East, both candidates would have a very tight race with the states shared three each.
North -central
The battle for North Central appears an all-Atiku affair, because Benue is determined to deliver Atiku with 70 per cent, while leaving 30 per cent for Buhari. Plateau, although slightly tough, would also deliver Atiku with 55 per cent, while conceding 45 per cent to Buhari. A repeat of this is likely in Nasarawa, where Atiku might go home with 55 per cent and Buhari, 45 per cent.
Kogi State's battle also looks good for Atiku even though with the same 55/45 sharing formula. But Niger might go the way of Buhari with 55 per cent to Atiku's 45 per cent. However, Kwara is solidly PDP and would deliver Atiku but with 55 per cent to Buhari's 45 per cent.
The summary here is five states for Atiku and one for Buhari.
South-west
Considered the real battleground because of the number of votes that is up for grab, the race in South-west is unavoidably tight. In Oyo, for example, Buhari will certainly top with 55 per cent, while Atiku gets the remaining 45 per cent of the vote count. But in Osun, the situation is too close to call and might flip either way. Is a 50/50 chance. The Osun equation is unlikely to be repeated in Ondo, which may give Buhari 55 per cent and Atiku 45 per cent.
Buhari appears comfortable in Ekiti, where he may likely get his highest votes in the zone with 60 per cent to Atiku's 40 per cent. Interestingly, however, Ogun too may go the way of Atiku with 55 per cent to Buhari's 45 per cent, because of the many factors that are currently playing out in the state. But the Lagos battle is a 50-50 ratio. The dynamics are quite intricate.
Curiously, the South-west goes the way of Atiku with three states to Buhari's two, while drawing in one, Lagos.
South-east
Further South, the battle for the soul of South-east is almost predictable even without the enabling field work. This is because the entire zone would go the way of PDP, although with different percentages accruable to each state.
Starting with Imo, the heartland of the South-east, Atiku is sure of at least 60 per cent of the votes with 40 per cent concession to Buhari. The same ratio is obtainable in Abia, God's own state: 60-40 in favour of Atiku. Ebonyi too is sharing her votes in the same 60-40 pattern, also in favour of Atiku, while Enugu, which is South-east safest state for the PDP, boasts 70 per cent for Atiku and 30 per cent for Buhari. In Anambra, where Peter Obi's home-zone advantage is certain to work for Atiku, the PDP candidate stands to get 60 per cent votes to Buhari's 40 per cent. The final analysis in this zone sees Atiku clearing all the five states.
South-south
Similar to what obtains in South-east, the entire South-south too might go the way of PDP, with votes contingent on their voting strengths.
Rivers promises to deliver the PDP with a percentage of 80 to 20 in favour of Atiku, while Cross River will post 70 per cent for Atiku and 30 per cent for Buhari. Akwa Ibom, despite the current state of play, will still deliver PDP with 60 per cent and concede 40 to Buhari.
Edo will deliver the PDP with 55 per cent, leaving Buhari with the remaining 45 per cent. In Delta too, the PDP will post some 75 per cent for Atiku and 25 per cent for Buhari, while Bayelsa, though with a relatively small voting strength, will hugely deliver Atiku's PDP with 80 per cent, leaving the remaining 20 per cent for Buhari.
The South-south analysis also sees Atiku clearing the entire six states. As for the Federal Capital Territory, FCT, it looks like a 50/50 chance for the two candidates. And may go either way.
Nigerian Army colonel dies after Boko Haram ambush in Borno
A Nigerian Army colonel has died after an ambush by Boko Haram terrorists in Borno State.
Colonel DC Bako and some soldiers were attacked, on Sunday, September 20, when their vehicle was ambushed near Damboa, about 85 kilometres from Maiduguri, the state capital. He was until his death the commander of 25 Task Force Brigade in Damboa
Spokesman of the Nigeria Army, Sagir Musa, who confirmed the death in a statement on Monday September 21, said the colonel died in a military hospital where he was receiving treatment after the ambush.
"Operation LAFIYA DOLE wishes to intimate the general public of the demise of one of our gallant and finest war heroes Col DC Bako,"
"It could be recalled that the professional, gallant senior officer who always led from the front and a patriotic Nigerian, led a patrol to clear Boko Haram Terrorits from Sabon Gari-Wajiroko axis near Damboa when his patrol team entered an ambush at about 10 a.m Sunday 20 September 2020. Under his able leadership, the troops cleared the ambush resulting to the killing of scores of terrorists and recovery of weapons and equipment.
"Sadly however, he was wounded in action and immediately evacuated by the Air Task Force Operation LAFIYA DOLE to the 7 Division Hospital at Maimalari Cantonment. The late senior officer was recuperating well after successful operation at the hospital, in good spirit and also said his prayers in the early hours of this morning before his sad passing at the hospital. May Almighty Allah grant his soul eternal rest. Ameen.
"The Chief of Army Staff Lt Gen TY Buratai on behalf of himself, gallant troops of Operation LAFIYA DOLE and indeed well meaning Nigerians hereby express his heartfelt condolences to his esteemed family. We are most grateful for his contributions and sacrifices to the motherland.
"May God grant eternal rest to the gentle soul of Col DC Bako and the souls of all Nigerian Army officers and soldiers who paid the supreme prize in the defence of our father land." the statement reads.
Overcrowded Burial: Thousands Bid Emir Of Zazzau Farewell ( Video)
After 45 years on the throne, light dimmed yesterday for Emir Zazzau Alhaji Shehu Idris, who passed on at 84.
Thousands of people converged on the palace at Zaria to pay their last respects as the remains of perhaps, the longest serving emir, were interred beside the tomb of some of the past emirs.
Prayers for the repose of the soul of the 18th Emir of Zazzau, were attended by Chief of Staff to the President, Prof. Ibrahim Gambari, who led the presidential delegation. Other members are: Minister of Aviation, Senator Hadi Sirika and Senior Special Assistant to the President on Media and Publicity, Mallam Garba Shehu.
Governor Nasir El-Rufai led the Kaduna State delegation which included Secretary to State Government, Balarabe Lawal-Abbas, Speaker Yusuf Zailani and heads of military and paramilitary formations and institutions in the State.
The demise of the Emir threw the entire people of the emirate into tears and mourning, as the remains of the late paramount ruler arrived the Palace from Kaduna at about 2.45pm.
The palace that was filled to capacity by friends, relatives and well-wishers who patiently waited till evening.
Also at the palace was the Emir of Kano, Alhaji Aminu Ado Bayero, and heads of military and paramilitary formations in the state.
The Waziri of Zazzau, Malam Ibrahim Muhammad, had earlier confirmed the demise of the 18th Emir of Zazzau, who until his death, was the Chairman, Kaduna State Council of Chiefs in Zaria..
The Emir died at the 44 Army Reference Hospital, Kaduna in the early hours of yesterday.
Aminu Shehu Idris, son of the Emir, said his father passed on after a protracted illness.
According to Aminu, his late father had been battling with an undisclosed ailment for a decade "until this morning when death snatched him away."
The late monarch left behind four wives, many children, grandchildren and great-grandchildren.
The governor said: "We have lost a rare gem, a source of wisdom and guidance and a true father of all. May Allah Grant his soul abode in Aljanna Firdaus. Amin."
Osinbajo Welcomes First Granchild As His Daughter, Oludamilola Gives Birth
Vice President Yemi Osinbajo and his wife, Dolapo, are now grandparents as their daughter, Oluwadamilola and her husband, Oluseun Bakare, have welcomed their first child, a baby boy.
Oluwadamilola and Oluseun welcomed their baby boy today September 21.
Yemi Osinbajo announced the news on Twitter. He wrote:
"All glory to GOD! I am now a grand dad! My daughter, Oludamilola and her husband Oluseun became parents to a wonderful baby boy this morning!"