Atletico Look to Leapfrog Barca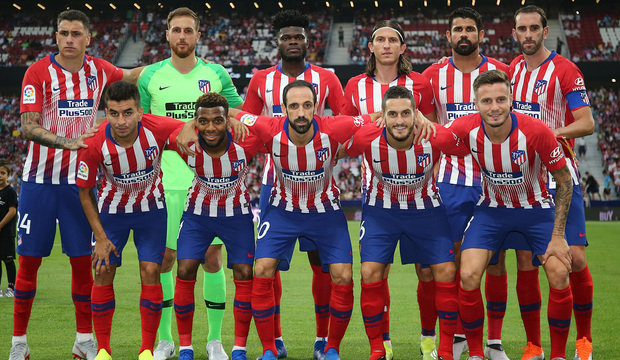 Atletico Madrid have a chance to take advantage of a topsy-turvy La Liga campaign when they host champions Barcelona today with the chance to take thetop spot this weekend despite their own patchy form.
Diego Simeone's side are just a point behind leaders Barca despite having drawn five times and lost once, together as many matches as they have won. They are battling to overtake Barca alongside Sevilla and surprise package Alaves, who are both on 23 points with Atleti.
Sevilla could potentially be leaders on Sunday night despite languishing in 13th place in September.
Even Real Madrid are in touch, just four points back despite having gone more than eight hours without a goal at one point and having been without a permanent coach for two weeks before Santiago Solari was upgraded from interim to full-time boss.
This season every time a challenger has clicked into gear they seem to click out again, in turn offering fresh impetus to their stumbling rivals around them.
Barca were verging on the crisis in September before reeling off six wins and a draw away at Valencia. Then they were blown away by Real Betis, flattered even by the 4-3 scoreline.
"We have managed to play the way we want against the big teams, but against other teams with less potential we have not," defender Gerard Pique said.
"If we want to win titles we have to be strong against everyone, the difficult ones and everyone else."
Atletico may have put a miserable start behind them but last month, they suffered their heaviest defeat under Diego Simeone, a 4-0 loss to Borussia Dortmund. Before the international break, they needed two goals in the last 10 minutes to beat Athletic Bilbao.
The last time Atleti prevailed over Barca in the league was 2010 when they had Spain keeper David de Gea in goal and Argentina striker Sergio Aguero up front.
Lionel Messi proved the difference in March with a bending free-kick, and in the summer too for Antoine Griezmann, who decided he would be better off in the lead role he holds with Atletico rather than playing second fiddle at Barca.
Griezmann has not shied away from his craving to clinch the Ballon d´Or this year but despite winning the World Cup and Europa League, the sense is he will come up short, as he is not consistently dominating these kinds of fixtures in the way players like Messi do.
There will be a battle of old against new in midfield, where Sergio Busquets, 30, goes up against Rodri Hernandez, eight years his junior.
Rodri is still rough around the edges but has poise, judgement and the ability to set the tempo. Busquets has done that job at the highest level over the past decade but he has been among those most at fault in Barca's worst performances this season.
Any result at the Wanda Metropolitano will benefit sixth-placed Real Madrid, whose first game with Santiago Solari as their permanent coach comes at Eibar early this afternoon.
Four wins, 15 goals scored and only two conceded the point to nothing less than a transformation, which gave Madrid president Florentino Perez an easy solution to fill the vacancy left open by the sacking of Julen Lopetegui.
Solari has a kind run of fixtures until Christmas, broken only by a league clash against Valencia and Roma in the Champions League next week, which gives his side the chance to re-emerge as serious challengers to Barca's crown.
David Beckham is seen parked illegally and using a phone weeks after completing driving ban
Footballing legend David Beckham has been spotted parking illegally on a yellow line while holding his phone at the wheel.
The 44-year-old looked to be texting while sat at a busy junction in West London, with other drivers having to pull out to pass his £146,000 Mercedes-AMG G63.
The father-of-four has recently completed a driving ban and could now face further fines after he left his engine running for over twenty minutes.
He also had his headlights and wipers on and was using his mobile device in a car that was not safely parked.
Mertesacker And Ozil Clash After Arsenal Defeat
Arsenal assistant coach Per Mertesacker was seen in a heated exchange with Mesut Ozil at the end of last night's defeat at Brighton.
The loss means Arsenal are on their worst run of form for 42 YEARS and the German pair were clearly not happy about it.
The defeat means the Gunners have not won in nine and the last time they went ten without a win was way back in March 1977.
Goals from Adam Webster and Neal Maupay either side of Alexandre Lacazette's equaliser meant the North Londoners slip to tenth in the table.
And the angry feeling was clearly too much for Ozil as he was seen shouting and gesticulating at his former international and club team-mate.
Everton FC Sack Marco Silva As Manager
Everton have sacked manager Marco Silva after 18 months, with the club in the Premier League relegation zone after their Merseyside derby humiliation.
Wednesday's 5-2 defeat by Liverpool at Anfield was their ninth of the season and leaves them 18th in the Premier League after three successive losses.