The weekend features some truly mouth-watering matches for DStv and GOtv viewers, starting with the North London Derby, between Tottenham and Arsenal. The Gunners travel to Wembley today as the more confident side after their 5-1 drubbing of Bournemouth midweek.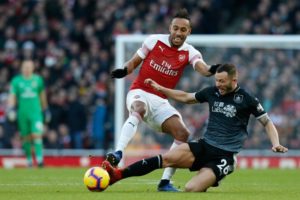 Arsenal's Gabonese striker Pierre-Emerick Aubameyang (L) vies with Burnley's English-born Scottish defender Phil Bardsley (R) during the English Premier League football match between Arsenal and Burnley at the Emirates Stadium in London on December 22, 2018. (Photo by Ian KINGTON / AFP)
This is exactly what Arsenal needed ahead of the trip to Wembley today lunchtime when they face Tottenham.
The Gunners have hit onto some good form of late, but that will come under real scrutiny when they face their arch rivals for what is always a hot-tempered clash.
The Gunners will release the last of their arsenal to ensure Tottenham who have lost two matches in a stretch are brought down to earth.
Manchester City will then look to steal a march in the title race with a win away to Bournemouth on this afternoon, before Sunday sees Liverpool look to respond when they face Everton at Goodison Park for the latest edition of the Merseyside derby. On the same afternoon, DStv and GOtv viewers can also enjoy a West London derby between Fulham and Chelsea at Craven Cottage.
Action in the Premier League kicked into overdrive midweek with two full rounds of fixtures played at various centres.